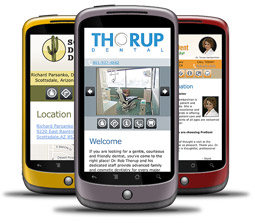 With the majority of mobile phone users having web connectivity at their fingertips, it is important that you have a high-quality, professional version of your current website built specifically for easy viewing on mobile devices. Having a mobile site enables you to better engage your customers and allows instant access to your business information from anywhere, at anytime.
Treeline Dental Websites is excited to share these beneficial "mobile websites" with you. Each is customized with your logo, colors, to match your standard website.
Setup Fee: $200
Monthly Mobile Fees Now Included*
*Monthly mobile fees are now included in the standard monthly price. Please note that a mobile website setup is included with each new website. If you would like more information, or have any questions or concerns please do not hesitate to
Contact Us
.